Trey Barnes, Owner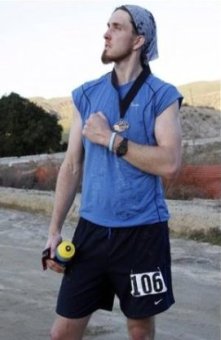 Howdy, my name is Trey Barnes, and I'm the new owner of the Fleet Feet Sports Encino store. I was born and raised in the L.A. area. That would be the Lenoir Area!! (at least that's what it is to the local folks of Lenoir, North Carolina, a small town in the mountains of western North Carolina.) I grew up spending my time in the outdoors playing around and working on some family farms. 
       I'm new to southern California but have been working and managing Fleet Feet Sports stores since 2005. I started my journey to Encino in Hickory, North Carolina where I fell in love with working in a running store and helping people. From Hickory I moved to Carrboro, North Carolina and then on to Menlo Park, California to manage and work in other Fleet Feet Sports stores. Soon after I started working in Hickory; owning my own store became a dream and goal of mine.
      Shortly before working at Fleet Feet Sports, I began my running career on a challenge. My first run was the Virginia Beach Rock'n Roll half-marathon. I was hooked from that moment. Soon I began running marathons, ultra-marathons, cycling and adventure races. I've encountered great and amazing people during my races and training runs that have helped me accomplish my goals. Every day I come in the store I try to be one of those great people to every customer I work with. Whether it is a shoe, energy gel, a foam roller, or even just some training advice I hope that every customer finds what they need in the store to accomplish their goals, as I did mine.
      When I'm not running or at the store you can find me watching some special on the History or Discovery channel. During basketball season don't be surprised if you hear a thick southern accent cheering on the North Carolina Tarheels basketball team!!! 
      The legendary customer service and knowledge of the store is a challenge and privilege I look forward to carrying on in the future, while adding some southern hospitality into the mix. I would like to thank Charlie and Ava Hoover for trusting me and the Fleet Feet Sports family to continue taking care of all the great customers they've had over the years.
      Please stop by the store and introduce yourself so I can get to know you.